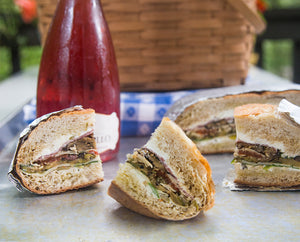 Lodi Wine and Sandwich Picnic Package
Regular price $80.00 Sale
It's happened to all of us. After the second winery the buzz starts and you think to yourself "I'd sure love a gourmet sandwich before the next winery." Star Class is proud to announce our wine and sandwich package. 
This is a five hour package priced at $80 per hour ($50 per person) and includes a free bottle of champagne to get the day started. After the second Winery (or third, your choice) we will have sandwiches for you to help soak up the Lodi wine. We've partnered up with Rayley's for your sandwiches. 
Choices include:
Mediterranean Veggie: Tzaiki, hummus, cucumbers, tomatoes, organic spring mix, roasted red peppers and Havarti cheese on grain bread. 
California Turkey: Turkey breast, avocado, tomatoes, red onions, spinach, dijon mustard, and jack cheese on grain bread. 
Dagwood: Turkey breast, roast beef, ham, bacon, tomatoes, pickles, pepperoncini, onions, and provolone cheese on french bread
Santa Cruz: turkey breast, bacon, avocado, tomatoes, organic spring mix and Havarti cheese on a ciabatta roll
El Dorado: Rotisserie Chicken breast, jalepenos, green chilis, onions, chipotle sauce and jack cheese on ciabatta roll
Chiptole Beef: Roast beef, tomatoes, red onions, chiptole sauce and jack cheese on a ciabatta roll
Turkey Jalapeno Melt: Rotisserie turkey breast, jalapenos, tomatoes, onions, parmesan-artichoke spread and provolone cheese on herb focaccia bread
Rubicon BBQ Tri Tip: House cooked tri tip, onions, BBQ Sauce and cheddar cheese on a ciabatta roll